From, Views & Voices Magazine
"a magazine for women"
November 2008
By Lindsey Nuzzo
Home Artist
NANCY ASMUS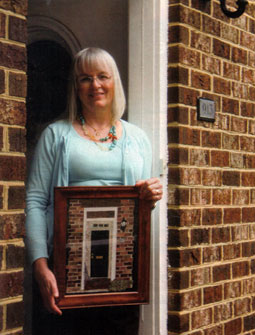 SOME PEOPLE SEE BUILDINGS MERELY AS WALLS AND WINDOWS. Fabric artist Nancy Asmus sees beyond the brick and mortar and captures the true beauty of local buildings through her intricate artwork.
Since fall of 2006, Nancy has owned and operated Nancy's Under The Steps, a quaint art shop nestled under a staircase in the @ the bank facility, 940 Park Ave. in Meadville.
There, she uses a sewing machine, a collection of scissors, and various styles and colors of thread to produce a fabric replication of original scenes and photographs. Though she will replicate almost anything, she specializes in churches, landmarks and private homes.
"Having my own shop gives me the opportunity to do what I love and have my own business," Nancy said. "And it's at such a great little location, too."
The @ the bank facility where Nancy's shop is located houses a number of small, personally-run novelty shops, exclusive to the Meadville area.
A long-time resident of Conneaut Lake, and an avid seamstress for 30 years, Nancy began making her own maternity clothing and later, outfits for her two daughters. In addition, she has always been fascinated with miniature objects and small details.
"As a kid I loved jigsaw puzzles and little knick-knacks," Nancy said. "The smaller, the better."
A project through her garden club finally sparked the idea of combining her love for sewing and small things by documenting facades through fabric art. Nancy was involved in a project called "The Trees of Christmas," where local garden club members would decorate live trees inside local historic houses.
At the Baldwin-Reynolds house, Nancy decorated a tree called "Glory to God," which featured stained glass windows from local churches.
While photographing the windows for the project, Nancy was intrigued by the church doors. ''When I saw the beauty of the church doors, I knew that they needed to be documented," Nancy said. "They were too beautiful to not."
From there, she began producing threaded artwork. Her initial focus was on church doors, of which she created a series called "Adoration." Eventually, she began to replicate entire buildings and landscapes and then took her work commercial by opening Nancy's Under The Steps.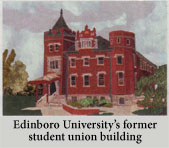 Through her unique form of art, Nancy has stitched a variety of buildings, landscapes and objects. As a graduate of Edinboro University, one of Nancy's most personal projects was to document the former student union building at her college alma mater. Now known as the Diebold Center for the Performing Arts, Nancy was happy to document the building's early 1900s aesthetic.
"I was honored because it was one of the most beautiful and one of the oldest buildings on campus," Nancy said.
"Showcasing the Art of Your Home" is a specific service offered at. Nancy's Under The Steps. Here, Nancy will replicate design elements in her clients' homes such as wallpaper, upholstery, and wood carvings buy tadalafil. Though she doesn't limit herself to what she draws, Nancy admits that she sometimes receives unusual requests.
"I once had a woman who asked me to make a valance to match her wallpaper border," Nancy said . "I was surprised only because the pattern on the border was of a moose in a bathtub, but that's what she wanted so that's what I drew."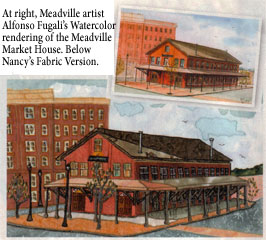 Nancy was honored when she was asked to replicate the work of a well known Meadville artist, the late Alfonso "Al" Fugagli, best known for his watercolor paintings of buildings, houses and landscapes throughout Crawford County.
"I was so flattered to retrace AI's brush strokes with a needle and thread," Nancy said about her opportunity to replicate the work. "It was difficult because I wanted it to be a close match, but I learned so much, too."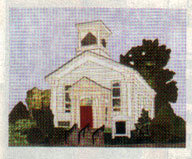 Nancy says her fabric artwork can be both rewarding and challenging. It takes her about three days to meticulously sew a replication of church doors and eight to 10 days for an entire building. The very elements that make her form of art so unique are also what make it the most difficult.
"Interpreting the actual building facades and taking the time to sew accurately are the biggest challenges, "Nancy said. "They require that I do my best work every day."
Greatly inspired by her work with fabric drawings, Nancy finds a lot of joy in what she does. She hopes to continue creating fabric art for many years as she learns to make her once-primitive form of art more detailed.
She encourages anyone interested in trying fabric art or any kind of art to invest in quality equipment, use good materials, keep an open mind and, most importantly, to believe in their abilities.
"You don 't have to be big to be great," Nancy said. "Make each day your masterpiece."